EDIT MAIN
Improv
Harrisburg High School Improv "Truth Be Told"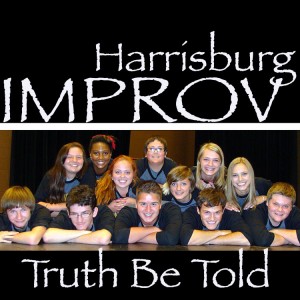 The Harrisburg Improv Troupe consists of 10-12 members in grades 9th through 12th. Through training, members develop the theatre skills required to perform improvised scenes in their local and surrounding communities that address issues facing youth today.
Improvisational theater is a form of psychosocial drama. This psychosocial model views substance abuse and other destructive behaviors as symptoms of deeper problems – people problems. This particular model operates on the assumption that information may not, in fact, influence behavior unless it is actively processed and related to attitudes, values, self-esteem, and peer and family influences.
Through improvisation of personal, family, and social issues, individuals are offered an opportunity to become aware of and discuss the implications of various situations. Emotional impact, coping, decision-making, understanding, helping, referrals and community resources are referenced in follow-up discussions. The audience has an opportunity to interact with information presented in a very personal manner – learning from one another.
A significant advantage for improv troupe members is the opportunity to break down stereotypes. Teens involved in the role-plays see reality from new and different perspectives. Teens come away with a deeper level of understanding different values through simulated experiences.
Each spring as senior improv members graduate, there will be an audition process to re-evaluate current members and to recruit new members. To identify new members the following criteria are considered: grade mix, gender mix, ethnic and socioeconomic mix, and value differences. The more diversity our team has, the more ideas that can be generated to help us with our mission, which is to role-model positive lifestyle decisions and address and discuss issues confronting kids today.