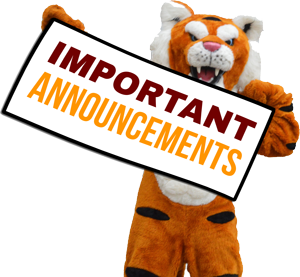 Announcements
HHS - Rox Bicknase
Wednesday, September 05, 2018
SENIORS: Need to Pay for College???
Be sure that you are periodically checking the counseling group under resources and then scholarships for constant updates. Just put on a link that's connected to 900 scholarships being given in SD only. New ones are constantly being posted as they come in. Keep checking to get the cash!
Interested in taking College Algebra? There are still spots available for next semester!! This dual credit course is taught at Harrisburg High School by a college professor. Cost for the course is $145. The course is worth 3 college credits and 1 full High School Math credit. See a counselor if interested!
Are you planning on taking the ACT this spring? If so, you should plan on registering for the ACT Prep Class being offered at Harrisburg High School. Participants will meet six times between February 27th and April 6th, with each class focusing on a different aspect of the test. A full practice test will also be offered. The cost is $75 and includes an ACT Prep Book. For more information on how to register, please sign up with Mrs. Meyer in the Admin Office, G-Wing room G115. The deadline for registration is February 1st! Payment must be made at the time of registration in order to guarantee your seat and prep book.
Congratulations to the Harrisburg FCCLA Chapter for an awesome Region 6 Meeting this past Friday in Parker. Teams/individuals who placed at the meeting included: Frist Place Senior Quiz Bowl Team - Izzy Roth, Kiana Sauer, Hannah Healy, Hannah Do, Shandon Boe, and Brooklyn Mulder; Region 6 Treasurer - Zoey Mager; Illustrated Talk Superior Rating Winners - Ella Bergsmith, Allyson McMillan , Hannah Schroeder, Ainsely Plack, Jaylie Vant'Hull, and Grace Starr.