Thursday March 23rd - Saturday March 25th, three of our Varsity robotics teams headed south to Council Bluffs, Iowa for the CREATE US Open. This was a four division, 165-team event with teams from all of the country including a couple international teams. HHS Team Capten is the winningest team in SD history and ranked 13th in the world!

Here are a few of the highlights.
7686A our Freshman Team and 7686C our Junior team had a rough start losing some key matches right away but turned it around midday Friday to end qualifying in the middle of the pack. 7686A made it into elimination rounds at the 15th seed alliance but were knocked out on their first match by the 2nd seed alliance.
The shining starts for the event were our Seniors. 7686 B had a tremendous tournament.
Team 7686B "Capten" ,Seniors from Harrisburg High School, partnered started the event Thursday night winning the skills competition. They are currently ranked 13th in the world and 7th in the country for their skills.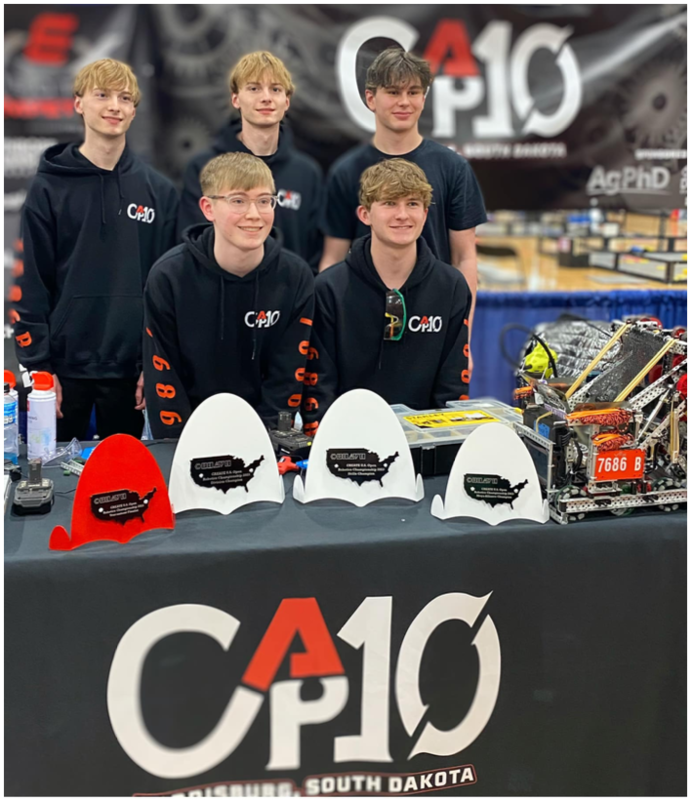 Friday they had a great day winning more qualifying matches then they lost. Friday night they participated in a fun activity where they made a mega alliance with 3 other teams from 3 other states to participate in fun games with their robots. They won that competition earning them a second trophy for the trip.
Saturday they were right back into qualifying rounds working their way up to 2nd place by the end of qualification matches. They allied with the top ranked team 88908X out of California and won their division! They then matched up against the other division champs and ended the day 2nd overall bringing home 4 trophies for the trophy case.
This team is coached by Noel Scheaffer and Ben DeNeui.
Team members include:
Micah S. (Team Captain)
Ian B.
Collin B.
Carter B
Kanton D.
Highlights of the Season:
1. Tournament Champs Gross Catholic qualifier in Omaha
2. Tournament Champs, and Skills champs Mitchell Qualifier
3. Tournament Champs, and Excellence award Sioux Metro Qualifier
4. Tournament Champs, Robot skills champs, and Excellence award Canton Qualifier
5. Robot Skills champs, and Amaze award North High School Qualifier Omaha
6. Tournament Finalists, and judges award Groton Qualifier
7. Tournament champs, Robot skills champs, and Excellence award Rapid City Qualifier
8. Tournament Champs, Robot Skills Champs, and Excellence at the state tournament
9. Division Champs, Skills Champs, Mega Alliance Champs, overall finalists US Open
There team number, 7686B, will be retired after this season. The Tigers continue to represent Harrisburg, and SD well. The next stop for this team is the World Robotics Championship April 25th - April 27th in Dallas TX. There they will see over 800 high school teams from across the world in a 10 division tournament, where around 50 countries will participate.

Thank you for all the support Harrisburg School District provides us including use of facilities for practices and events, Computers, and some funding for transportation and registration fees. We would not be the force we are without your Support.
Thanks also to our parent coaches who are volunteers. Congratulations to our Tigers. We are #TigerProud!