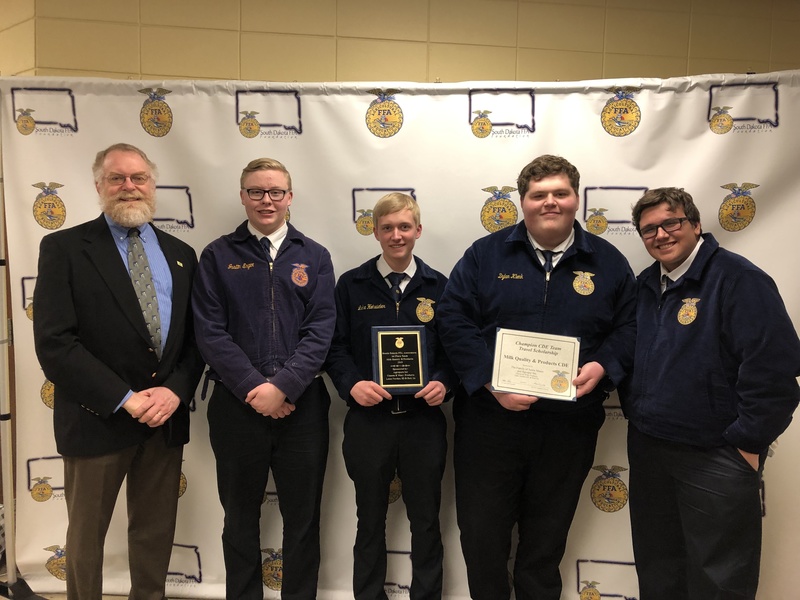 April 7-9 found many members of the Harrisburg FFA Chapter on the campus of SDSU for the 2019 State FFA Convention. Students attended leadership workshops, worked on community service projects, listened to motivational speakers, and participated in the State CDE's and other award programs.  The rest of the state knew Harrisburg was there as we had one of the most successful state conventions in program history! 
On Sunday evening, six Harrisburg members were recognized for their hard work outside of school by receiving state Proficiency awards. Three of these members placed first in the state and their applications will advance for national consideration. Those members are Kacey Lias in Small Animal Production and Care, Avery Alverado in Specialty Animal Production, and MaKenzie Voss in Agricultural Sales. Placing second in the state were Ben Olson in Nursery Operations and Kayla Smeenk in Equine Science Entrepreneurship. Mitchell Healy received third place honors in Agricultural Sales.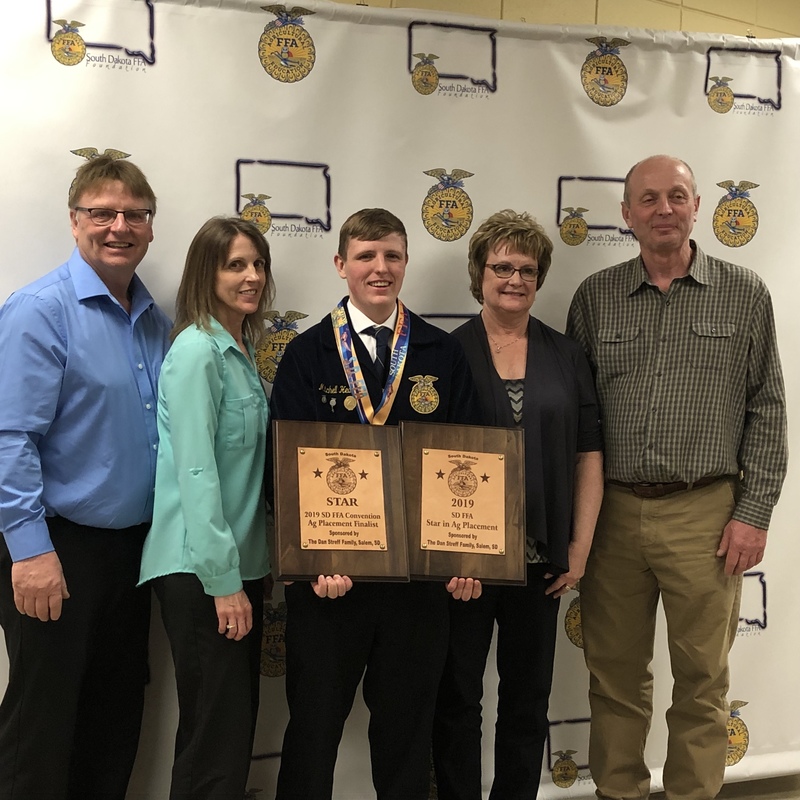 On Monday, nine Harrisburg members were honored with the State FFA Degree, the highest level of membership a member can receive from their state association. Avery Alverado, Mitchell Healy, Jackson Klemme, Grant Koerner, Kacey Lias, Mikayla Oleson, Parker Poppe, Kayla Smeenk, and Kaiah Willard. Two of these members received additional honors as they competed in the State Star Award Program. State FFA Stars are selected from the members receiving their State FFA Degree and top four Stars are selected in each of four different categories. Harrisburg was honored to have two State Star Finalists this year. Kayla Smeenk was a Star Finalist in Agribusiness and Mitchell Healy was a Star Finalist in Agricultural Placement.
The four Stars are interviewed on Sunday of the convention and the overall winner in each category is announced on Monday evening. The finalists receive a plaque and $75 from the State FFA Association and the State Star winner receives another plaque and $300 in prize money. Kayla was recognized as a finalists and Mitchell Healy was named the 2019 State Star in Ag. Placement! Having two Star finalists from the same chapter in one year is a huge accomplishment and we are incredibly proud of both of you! Kayla Smeenk was also awarded two FFA scholarships at the convention. Kayla is the recipient of the Mary Hanson Scholarship and the FFA Blue and Gold Scholarship. Each scholarship is $750 each and will be available to her for her second semester at SDSU. Tuesday morning brought the results ceremony for the state CDE's which took place on Sunday and Monday. Harrisburg had nine teams entered this year and we had outstanding results! Two of our CDE teams were named State Champions and will represent South Dakota at the National FFA Convention in October.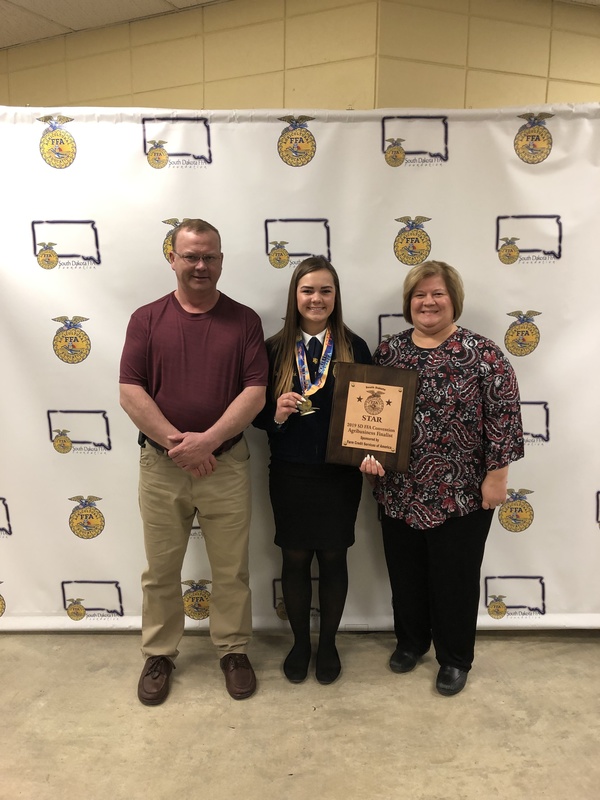 The Milk Quality team won first place and all four members of the team placed in the top 10 individuals! Tiegen Niemeyer place 2nd, Dylan Klenk 5th, Daniel Willems 6th, and Luke Hohweiler 9th. Our Nursery/Landscape team also placed first with Graham Scheaffer being the top individual in the state! Stihl Corporation is a national sponsor of this event and presented Graham with a chainsaw as the prize for the number one individual. Madison Stucky placed 5th, Tucker Seamer 8th and Mikayla Kolbeck finished 17th. The Meats Evaluation CDE team placed 2nd in the state earning runner-up honors. Mitchell Healy placed 4th, Ben Loos 10th, Kyler Slama 11th and Braxton Boer 14th. The Harrisburg Veterinary Science team also finished very well placing 4th in the state competition. Individuals in Vet Science receiving individual honors were Avery Alvarado placing 4th, Kayla Smeenk 11th, and Isabel Roth 27th. Congrats and thanks to all the Harrisburg FFA members attending the convention. You worked hard, acted professionally and represent HHS well. Thanks also to all of the parents who attended the convention and all FFA parents should be very proud of their sons and daughters.