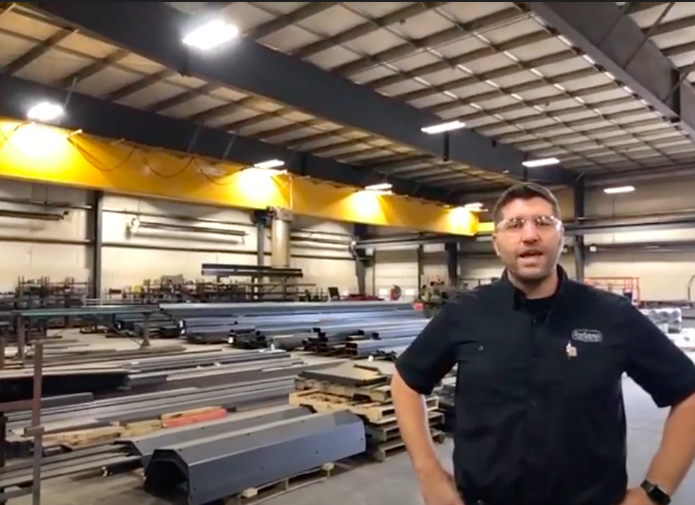 From Tea, SD DeGeest Corporation, a third-generation family owned business, is making waves in the manufacturing sector. To celebrate SD Manufacturing Week and National Manufacturing Day, Friday, October 2nd, Harrisburg High School learners were able to virtually tour DeGeest's facilities showcasing the vast skill sets needed to successfully operate in the manufacturing sector. DeGeest commits to "A Stronger Standard", focusing on dependability, integrity, and pride. They strive to do great work and treat people well, ultimately contributing to something greater, like the education of future workforce and our HHS learners. DeGeest Corporation is contributing to SD Manufacturing Week by providing a video series on social media, as well as connecting with our learners.. DeGeests growth in finishing and automation is an investment in the future workforce. 
Learners in Mr. Josh Christiansen's class have benefited from DeGeest's generous donation of five welding helmets to use in the high school welding program, as well as from the knowledge and expertise shared from DeGeest President Derek DeGeest and Marketing & Media Relations Alicia DeGeest, Harrisburg High School alumni class of 2000 and 1998 respectively, during their virtual tour this week. Mr. Christiansen stated, "It is amazing to see the pride that the DeGeests take in their business and community! The ingenuity that they possess and utilize to grow their business is head and shoulders above most other entrepreneurs. Not only do they care about the products and services that they provide, but they also work to pay it forward by helping schools and organizations grow and succeed."
During the virtual tour learners were able to see the automation solutions created by DeGeest in an actual production environment, view the many facets of manufacturing, and ask questions of experienced personnel. HHS is proud to partner with DeGeest Corporation and help build an educated and technically skilled workforce for years to come. Thanks to DeGeest for sharing their time with our learners; you can learn more about DeGeest Corporation by visiting their website: https://degeeststeelworks.com/ . Happy SD Manufacturing Week and National Manufacturing Day to all!